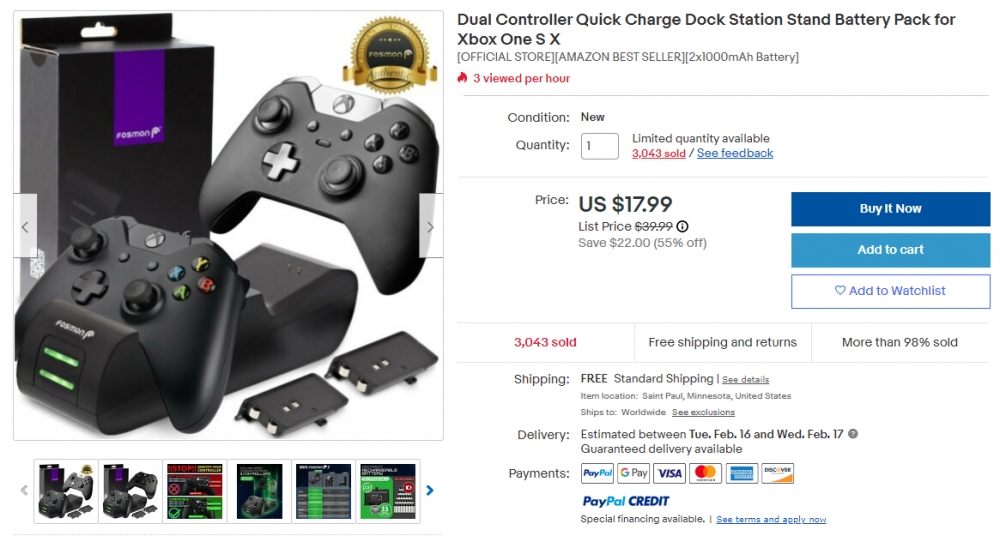 ebay) Dual Controller Quick Charge Dock Station Stand Battery Pack for Xbox One S X $17.99! 55%할인!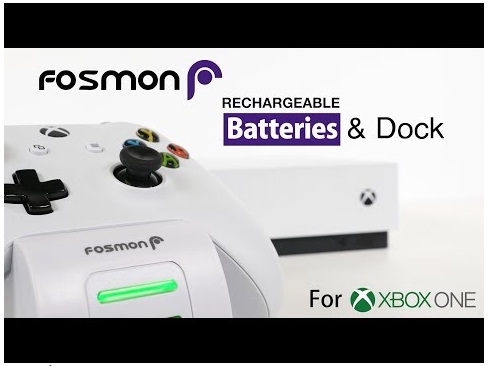 Compatible with Xbox One / Xbox One S / Xbox One S Battlefield / Xbox One X / Xbox One Elite Controllers.
Charge Multiple Controllers with Fosmon's Dual Controller Charger: Fosmon's Dual charging station compatible with Xbox One Controllers replaces your controllers' battery housing, turning them into rechargeable battery packs. Simply plug the base into an open USB slot on the Xbox One, or into a USB charger.

Longer Lasting Rechargeable Batteries
Fosmon's Xbox One Dual controller charging station provides up to 30-33 hours of standby time with the 1000mAh NiMH battery packs. They are built to last, with a lifespan of over 1,000 charge cycles.

Quick and Efficient Charging
When not gaming, simply put the equipped Xbox One Controller on the Charging Station and it will start charging automatically without the need to remove the battery. This is a quick and easy process to charge each controller, thanks to the dual conductive leads.

Green LED Indicator
The helpful green LED indicator will blink when a controller is being charged, and stays glowing to let the user know that charging is complete.

Input: USB Micro-B
Output: USB Type-A
Charging Time: 4-5 Hours
Charge Cycles: >1000
Battery Information: 1000mAh NiMh Rechargeable Battery Packs
Battery Life: Up to 30-33 hours of play time
Battery Safety: SGS certified UL 2054 and UL 60950-1 Standards

Limited Lifetime Warranty
We have served millions of customers for more than 10 years and every product comes with a limited lifetime warranty. Got a question? Reach out to our experienced and dedicated USA based customer support 24 hours a day, 7 days a week. Please refer to Fosmon website for more information.

Package Includes
1 x Dual Charging Station
2 x 1000mAh NiMH Rechargeable Battery Packs
1 x 4ft Micro-USB Charging Cable (power adapter not included)
✔ 핫딜은 판매가격이 시시각각 변동되니, 구매전 최종가격을 꼭 확인해주세요 ʕ•ᴥ•ʔ
★ 설맞이 다해줌 무료배송이벤트!★
[공지바로가기]

- 이벤트 기간 :
2021년 1월 28일(목) ~ 2021년 2월 9일(화)
(다해줌 결제기준/한국시간 기준)

- 이벤트 대상 :
몰테일앱 > 다해줌 66개상점에서 5만원이상 결제한 모든 고객님

- 이벤트 혜택 :
미국/중국/영국 무료배송
(단, 미국의 경우 측정무게 7LBS, 중국은 3KG, 영국은 2.5KG)
일본 배송비반값할인 (단, 일본은 3KG)

자세한 사항은 공지를 참고해주세요 !